The Ultimate 120-Hour TEFL Course
Whether you're just interested or want to become a certified teacher, our one course covers everything you need.
We've poured our years of practice from classrooms around the world into creating the ultimate accredited TEFL course. Our single course contains everything you need to know to prepare for a life both inside the classroom, and out:
Excellent course! It took me a little over two months to complete and i've learned so much. I can't wait to start teaching!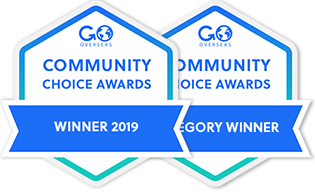 Very happy to have finished my TEFL course and have already secured a job in China!
What you'll learn:
With our online TEFL course you'll learn everything you need to step into a classroom and deliver a fun yet educational lesson.
How the ESL industry works

What students need to study

How to teach grammar and tenses

Ways to practice speaking, listening, reading and writing skills

How to create and use lesson plans

Motivation and management techniques

How to teach kids, teenagers and adults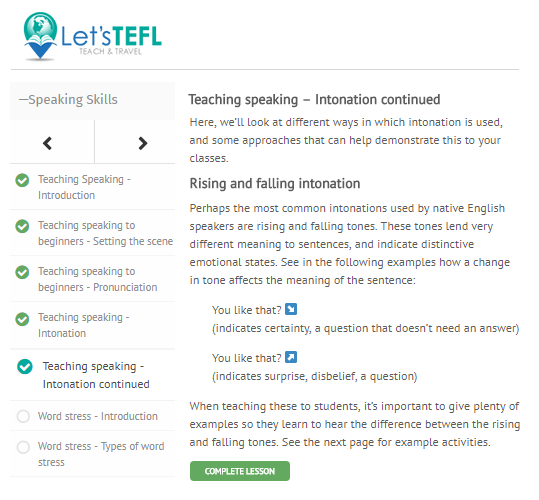 One package with everything you'll need:
We include everything which new teachers need to start teaching online or overseas.
Online teaching video guide
Learn how to teach in classrooms AND online.
Our TEFL course prepares you for both teaching in classrooms around the world, or for starting your online teaching career from home.
We include training presented by an experienced online tutor to help you utilize your TEFL skills for online classes. You'll learn how online teaching works, what equipment you'll need, how to set up your classroom, and the essential techniques which online teachers need to master.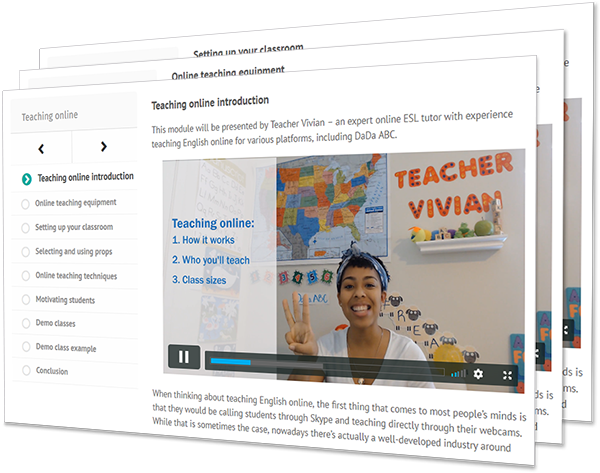 Lifetime job placement service!
Land an incredible teaching job with our placement service.
After completing our 120 hour TEFL course, we'll guarantee you a great job with one of our partner schools overseas. All you need to do is meet the visa requirements and demonstrate your suitability through a Skype interview.
Within weeks of completing your course you could be ready to fly out to your new teaching position in China, Japan, Korea, Taiwan, Thailand or elsewhere. Check out the example employment packages to see what you could be earning.
Free employment training course!
Get your CV polished, learn how to ace interviews for teaching positions with our free course.
Applying for teaching positions can be different from other jobs you may have had in the past. Interviewers will be looking for certain things on your CV and you'll have to do some extra preparation for each interview.
In our free employment training course, we'll provide extra guidance on creating the perfect CV for teaching positions, show how to get through interviews and how to show off your new teaching skills in demo classes.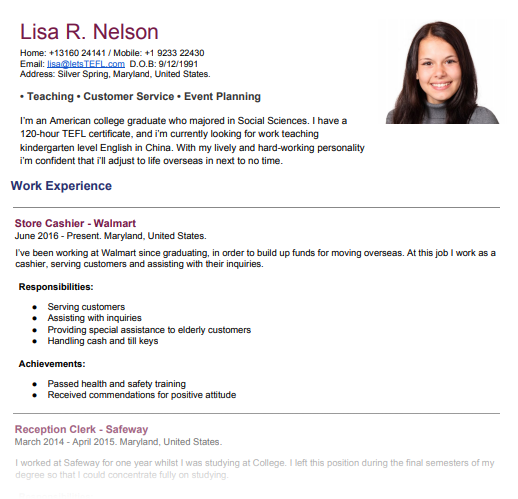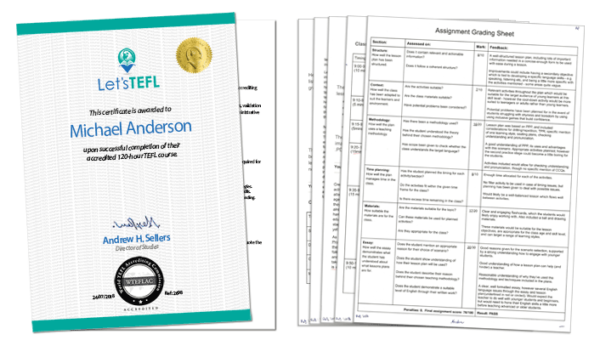 Personal feedback & free certificate shipping!
Unlike other courses, we provide you with indepth feedback, and ship your certificates internationally – FREE of charge.
Getting feedback on your progress and assessments is crucual for any serious course. Our examiners all have at least 5 years of industry experience, and provide indepth review of your assignment materials.
We also ship out your signed and stamped certificate using recorded delivery after completing the course. This is especially important for bringing to job interviews, or when applying for visas.
Accredited TEFL course
Our 120 Hour TEFL Course is internationally recognized and has been accredited by The World TEFL Accrediting Commission (WTEFLAC).
This means that our TEFL course content, grading processes and knowledge of the ESL world meet the stringent requirements needed to provide our students with everything they need.
By earning our WTEFLAC accredited TEFL certificate, you'll be able to let employers know that you've taken the time and care to complete a truly reputable course which is recognized around the world.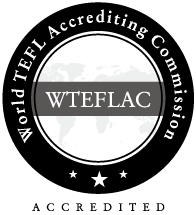 Accreditation number:
LETSTEFL567465TW23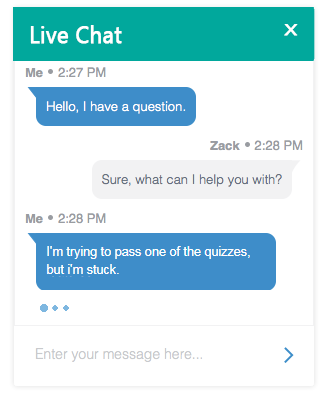 Tutors just a click away
With live chat and email contact options available, you're only a few clicks away from talking with one of our experienced tutors.
Whether you're stuck on something with the course, have a concern about classroom skills, or have a question about life as a teacher – we're here to help.
Got a question already? Let's chat!
Study anywhere, anytime!
You can study using your computer, tablet, or smartphone.
We understand that it can be hard to fit in studying around your work-life and other commitments. That's why our course can be completed using any of the devices mentioned above. Just log in whenever you have time available, and study away.
While we do recommend using a laptop or pc with a clean work environment, if you don't have one you can still complete the entire course using a tablet or smartphone, and when it comes to your assignments they can be completed on paper and uploaded via photograph.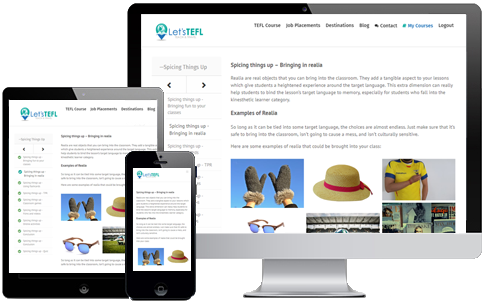 Some of the most popular teaching destinations.
Recognized around the world!
Thanks to our accreditation, your certificate can be used in the hottest teaching destinations.
If you're heading to Asia, you can rest assured that your certificate can be used for job applications in China, Japan, South Korea, Taiwan, Thailand, and Vietnam. You can use your certificate in European countries including Spain, Italy, Germany, France, and Greece. Considering the Middle East? Kuwait, the UAE, Saudi Arabia and Qatar are all excellent options. Or how about South and Central America? Argentina, Brazil, Colombia, Mexico, and Peru can be a lot of fun!
Not so keen on going overseas just yet? You can also use our TEFL certificate to teach English online!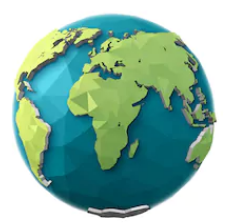 Rated 9.5/10 on GoAbroad!
We pride ourselves on delivering excellent support and a truly robust course. Read some of the reviews from our previous course graduates: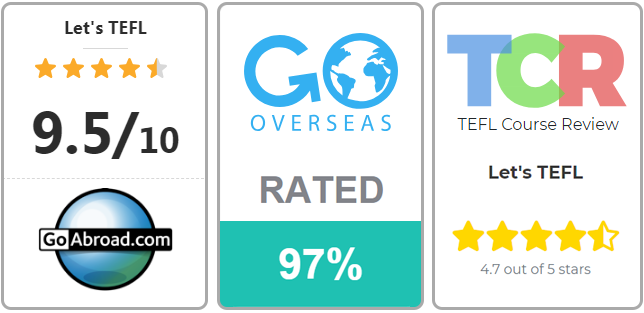 Our goal is to ensure that you gain not only the certificate needed to teach, but also the confidence to put your skills into action.
I recently finished Let's TEFL's ultimate 120-hour TEFL course after studying for about 3 or 4 weeks. One word to describe the experience – GREAT.


Danny Cayetano – California, US.
Thank you Let's TEFL for my certificate and for helping me to find a job so fast!


Valentina Sanchez – Adelaide, Australia.
I was a little bit apprehensive about teaching, but after talking with their tutors who have been through this all themselves it really made a huge difference.


David Lawson – Bradford, UK.
Excellent course! It took me a little over two months to complete and i've learned so much. I can't wait to start teaching!


Chang Lin – Wellington, New Zealand.
Very happy to have finished my TEFL course and have already secured a job in China!


Luke Hartford – Calgary, Canada.
Save 60% with Two Monkeys
Promo code: TWOMONKEYS
Was $499 now $179!
+FREE certificate shipping!
Was £375 now £130!
+FREE certificate shipping!
Was €420 now €169!
+FREE certificate shipping!
Was A$650 now A$230!
+FREE certificate shipping!
Was NZ$710 now NZ$250!
+FREE certificate shipping!
Was R6,000 now R2,400!
+FREE certificate shipping!
Was ₱19,000 now ₱7,800!
+FREE certificate shipping!
Was ¥3200 now ¥1200!
+FREE certificate shipping!
Was $640 CAD now $230 CAD!
+FREE certificate shipping!