Teaching English opens a life of adventure, travel and job satisfaction like no other!
Every year thousands of new TEFL teachers pack their bags and fly overseas to start teaching English. Whether you want to pay off student debts, do some traveling, or start a whole new life overseas, TEFL opens so many possibilities...
In recent years the demand for English language teachers has grown – all around the world. Students of all ages and walks of life are learning English either for school, for fun or for business. This industry is commonly known as TEFL or Teaching English as a Foreign Language.
Depending on where you choose to teach, you could soon be waking up by the beach in Southern Thailand, among the skyscrapers of Shanghai, or with freshly brewed coffee on a terrace in Barcelona. Thanks to the global demand for qualified teachers, there's almost countless destinations to work in.
Qatar, Saudi Arabia, United Arab Emirates.
Perfect for teachers with 2-3 years of experience.
China, Korea, Japan, Taiwan.
These destinations pay great wages even for new teachers!
Thailand, Vietnam, Spain, Cambodia.
Live to the max with the adventure packed destinations.
As you can choose to teach all around the world, the salaries vary from region to region. You can earn between $2,000-$3,000 per month teaching in China, Taiwan, South Korea and Japan. While in other regions such as Thailand, Vietnam, Turkey, and Cambodia you can earn between $800-$2,000. After you've gained a year or two of experience, you could start looking at jobs in the middle east which can pay up to $4,000 per month!
With many teaching jobs you'll also find some added perks thrown in. It's not uncommon to have partial or full accommodation included in your contract, along with contract completion bonuses paid after 1 year, and airfare reimbursement – so you can take a trip home when you need to.
Teaching English is perfect for people who wish to experience life in another country. Whether you're looking to take a break from working at home, go on a paid gap year, or set up a full career overseas. Teaching can be a brilliant springboard to take a leap in any direction you choose.
So long as you're fluent in English, over 18 years old, and looking for adventure, then teaching could be for you.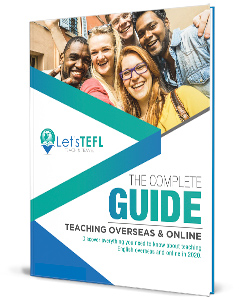 Get more info on teaching English overseas & online
At Let's TEFL we make it fast and simple to start a life of teaching. With our accredited online course you can study from home, earn your TEFL certificate in a matter of weeks, and we'll even help you to find your first job!
Simply enter your details below to receive your free brochure on teaching overseas & online in 2020:
[caldera_form id="CF5dd60c6e684fe"]
Studying online was really simple and convenient. I completed the course in about 6 weeks by studying after work each evening.
Very happy to have finished my TEFL course and have already secured a job in China!
Excellent course! It took me a little over two months to complete and i've learned so much. I can't wait to start teaching!