Teaching English in Colombia
Learn all the ins and outs about teaching in culture and beauty-packed Colombia.
This country's hot job market has a high demand for English teachers. So it's up to you whether you want to teach in a bustling city or tranquil environment surrounded by nature. There are opportunities for all kinds of teachers, so read on while you start packing your bags.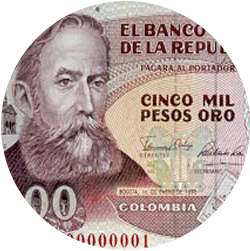 Wages
Wages
Earn between $400-$1,000 per month at a school.
Or earn $12-25 per hour as a private tutor.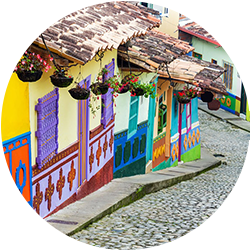 Lifestyle
Lifestyle
From bustling cities to rural retreats, you're sure to find a place in Colombia to match your mood.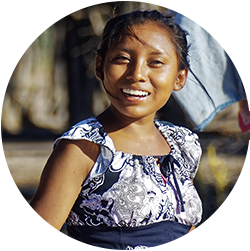 Communication
Communication
Colombian Spanish is the main language spoken in Colombia.
Locals rarely speak much English, but younger students and teens can often speak a little.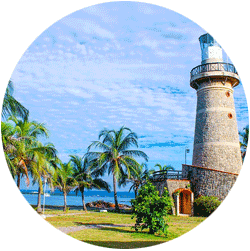 Climate
Climate
A tropical climate, with little change in temperature throughout the year.
It does get colder in higher elevated areas though, and can be rainy at times.
English teaching salaries in Colombia depend on the job and the teacher's experience. On average, a teacher makes around $500 per month as a base rate, with some exceptions.
Some jobs include housing and health insurance, so it's worth checking with potential schools what's included in their employment package.
| Class type: | Wages: |
| --- | --- |
| Government department teacher | $1,000 p/m |
| Private tutor | $12 – $25 p/h |
| Public school | $500-600 p/m |
Colombia, like most South American destinations, isn't a country which is going to make you rich. Most English language teachers are able to cover their expenses including rent, meals, and transport, and perhaps save a little if they're careful with money.
Rent prices vary depending on your location, but it's common to spend around $200 for a room in a shared apartment with other teachers, or around $400-600 for an apartment of your own.
Where to teach English in Colombia
Colombia offers the complete South American package and much more than that. Within the borders of this relatively small country you'll find everything you need for a lifestyle that never gets old.
Do you picture yourself on a mountain? A beach perhaps? Or roaming the streets of the capital city Bogota? Whatever you have in mind, chances are Colombia has a place just like that.
Colombia has a huge choice of places to call home. Here are some of the top picks:
The capital city of Colombia cannot be excluded from this list. Teaching opportunities here are plentiful and diverse and apart from schools you can teach for companies and do private classes.

If you like to rise with the sun, classes start at 7am, and don't mind a little chaos Bogota is a place you'll love. Students are friendly and the many public holidays give you lots of opportunities to explore the rest of the country. Bogota is a great location to travel from, as the capital city is connected to almost all places in the country. Making friends to take all these cool trips with shouldn't be a problem, as there are many other expats in the city.

On normal weekdays, after you've finished teaching, the city has enough fun and entertainment to offer. Your taste buds will go crazy for the local food, museums will teach you a thing or two about the rich history of your new hometown and walking around on the streets packed with old colonial buildings will be a feast for the eyes.

The pay may be less, and the costs may even be higher, but Medellin is worth it according to many English teachers who chose this city over all other places. Finding a house may also not be a piece of cake, but isn't that the case in most popular places?

It's a fairly large city, but nowhere as crazy as Bogota. Expect a salary of about $500 for a 24hrs teaching job, so you will have some time to make a few extra bucks doing private tutoring. Or you could choose to spend your free time enjoying the peaceful life in the valley, in a place that's called 'City of Eternal Spring' for a very good reason.
Beach lovers listen up, Santa Marta might be the place you've been dreaming of. The number of English teaching positions is increasing, so now is the perfect time to settle down on the Caribbean coast.

Don't expect to leave this place with bags of money, wealth is not what you will gain here and chances are you're going to need your full salary to cover your living expenses.
But in return you get a good dose of colonial charm, beautiful surroundings to explore and hot air accompanied by a soothing ocean breeze.

As development spreads throughout the country, so do teaching opportunities and that makes Cartagena one of your options as an English teacher.

It's an idyllic city with an old town that's honoured with a spot on Unesco's World Heritage list and a charm that makes you want to stay forever.

It's also very hot and humid, so if you can't stand the heat stay out of Cartagena. But should you decide to settle down and teach, you have different options. High schools and paid volunteering for example, but plan ahead as the number of teaching positions is not endless in this relatively small city.

Colombia's cuisine offers a number of dishes you wouldn't want to miss out on. Beans, corn and rice are ingredients you will find in many national recipes and the largest meal of the day is usually lunch, dinner is often just a small snack.
Colombia English Teaching Visa Guide
Colombia Visa Guide
If you're hoping to teach English in Colombia, you'll want to make sure that you're working on the right type of visa. Here's a guide to help you prepare for your visa application, and navigate the whole process.
English teaching requirements in Colombia
Colombia has long been a destination haven for teachers without degrees, and for non-native teachers, though you should be prepared that things are getting more competitive now. While there may be exceptions in certain circumstances, for the most part you'll need to meet the following criteria:
Non-natives and those without degrees: If you don't have a passport from the UK/US/IRE/CAN/AUS/NZ/SA, you can still work as an English teacher in Colombia. It can be more difficult to find work though, and it would help if you had an IELTS/TOIEC certificate to show your English fluency.
Similarly, you can work in Colombia without a college/university degree, though many schools will give preference to candidates with degrees. To overcome this preference, it can help to prepare a great demo class which you can use to show your teaching potential, and give them an offer they can't refuse.