Teaching English in Costa Rica
Everything you needs to know about teaching in the land of "Pura Vida" (Pure Life).
Costa Rica is one of the top destinations for teaching English in Central America. It is a country known for its amazing beaches, beautiful rainforests, and great climate. Costa Rica is a top tourist destination, so many locals need and want to learn English in order to better accommodate their 1.7 million visitors each year.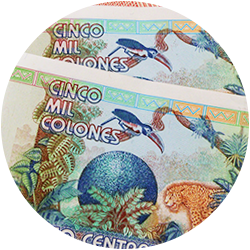 Wages
Wages
Earn between ₡365,000-700,000 CRC (Costa Rican Colón) per month.
That's around $600-1,200 USD.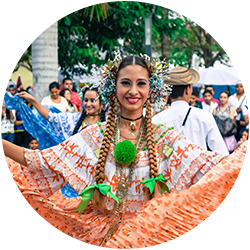 Lifestyle
Lifestyle
Costa Ricans, or "Ticos" are known for their laid-back and healthy lifestyle.
Many teachers are also drawn to Costa Rica for a relaxed and eco-friendly way of life.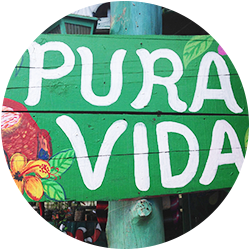 Communication
Communication
Spanish is most commonly spoken in Costa Rica, and a Creole-English language called Jamaican patois, or Mekatelyu, is also spoken along the Caribbean coast.
It's common to find English-speakers though, especially in more touristy locations.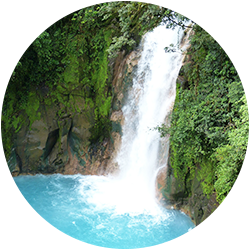 Climate
Climate
The climate in Costa Rica is tropical, and the temperature is hot and humid year-round.
Because of its proximity to the equator, Costa Rica has no real summer or winter, but it does have a rainy season from May to November.
Costa Rica isn't a country where teachers can save large amounts of money each month, but you can certainly live well and save a little if you're careful.
Teaching wages in Costa Rica generally sit somewhere between $600-$1,200 per month (₡365,000-₡700,000), depending on the school, number of hours worked, and experience/qualifications of the teacher. Having a TEFL certificate, a bachelor's degree, or previous teaching experience can help you to reach a higher wage.
Most employers in Costa Rica are private language schools that offer full-time contracts with around 20-24 hours per week, and last 6-12 months at a time.
| City type: | Wages: |
| --- | --- |
| Public schools | $600 – $800 p/m |
| Private schools | $600 – $1,200 p/m |
| Private tutoring | $10 – $20 p/h |
While the cost of living is relatively low nationwide, it can be difficult to save much money unless you supplement your salary with private tutoring.
To live with a host family or rent a room in an apartment is around $200 to $350 per month. For a private apartment, the cost starts at around $400-450 and are as much as $800 per month depending on the city. There are a few international schools that will provide accommodation, but this benefit is typically considered when salaries are calculated, so the monthly pay may be less than average if accommodation is included.
This means that Costa Rica is a destination best for teachers who are comfortable with enjoying life and breaking even every month.
Where to teach English in Costa Rica
The appeal of Costa Rica for many English teachers is its beaches, however, it is important to note that there aren't really a lot of teaching jobs on the coast. Most jobs can be found around the capital, San José, in the region of Central Valley. But, don't worry! The Central Valley is full of great, lively cities and there are plenty of beaches that are just a quick bus ride away.
Here are some of the most popular destinations for English teachers in Costa Rica:
San José is the largest city and the capital of Costa Rica, with a population of 333,980. There are several popular museums, restaurants, parks, cathedrals and the national theater. Some of the most popular attractions are the Democracy Plaza, Spanish Park, National Park, and the Jade Museum.
San José also offers teachers plenty of shopping centers, a vibrant nightlife, and there are many festivals and events in San José year-round.
Alajuela is Costa Rica's second largest city and is located 20 km (12 mi) northwest of San José. It has many museums, parks and local markets.
Surrounding Alajuela are many national parks, zoos, and the famous Poas Volcano. It is historically known for its activities during the country's independence from Spain, so if you're a history buff you'll love exploring the museums here.
Cartago is one of the oldest cities in Costa Rica. It is located near the base of the active Irazu Volcano in the Central Valley, 25 km (16 mi) east of San José.
Cartago was once the capital of Costa Rica until it was partially destroyed by a volcano in 1732. This city is also surrounded by beautiful botanical gardens and tropical rainforests, making it great for short trips at the weekends.
Heredia is a historical city located 10 km (6 mi) north of San José at the base of the Brava Volcano. Heredia is known as the "City of Flowers" because there are many lush gardens, parks and coffee plantations around the city.
It is also home to the National University of Costa Rica and has a large student population – which offers teachers great potential for private tutoring.
Teaching in Costa Rica gives you access to a colorful cuisine which leans heavily on fresh fruits, vegetables, rice, beans, and fish dishes.
English teaching requirements in Costa Rica
The school year in Costa Rica begins at the end of January and goes until early December. Therefore, the prime hiring periods are at the start of January and April to May. While there might still be positions available year-round, after September it is difficult to find work until January.
Non-natives: Non-native speakers can teach in Costa Rica, but schools do have a preference for native speakers. It can help to have a TOIEC/IELTS certificate to prove your level of fluency before applying for jobs.
Non-degree holders: As in most of Latin America, a bachelor's degree is not required to teach English, though it can help if you do have one.