Teaching English in Italy
Everything you need to know about teaching English in the cultural (and foodie!) capital of the world.
Choose it for the art, for the food, for the old-world culture, for the breathtaking landmarks or for the gelato, which is a completely valid reason on its own. The boot-shaped peninsula is plagued with UNESCO world heritage sites, and luckily for us, English teachers are in high demand. Eager to leave? Here's all the info you need.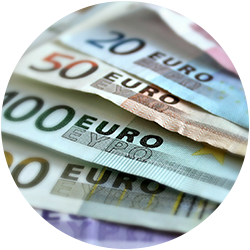 Wages
Wages
Earn between €800 – €1,600 per month, depending on the institution and position.
(That's $900-$1,800 USD)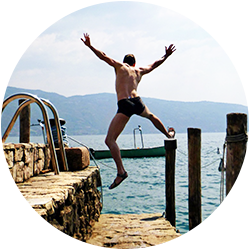 Lifestyle
Lifestyle
La dolce vita is the bliss point between work and the importance of free time, family, lunch, and at least 3 espressos a day.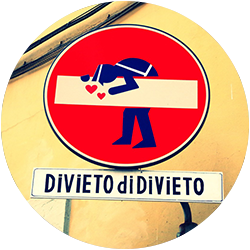 Communication
Communication
It's common to find English speakers, especially in the north, so don't worry if you've not started learning Italian just yet!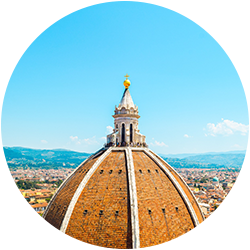 Climate
Climate
The Mediterranean climate consists of dry summers, and rainy, snowy winters.
Public positions for English teachers pay anywhere between €1,200 and €1,600 for full-time schedules. For private institutions, such as art schools and private schools, you could access higher salaries, but it highly depends on qualifications. Part-time positions are available in ESL schools, as the courses are mostly after-school or weekend programs, which allow you to earn anywhere between €800 and €1200, or €12-€20/hr.
| Class type: | Wages: |
| --- | --- |
| Part-time positions | $800 – $1,200 p/m |
| Public schools | $1,200 – $1,500 p/m |
| Private schools | $1,400-$1,800 p/m |
| Private tutoring | €15 – €30 p/h |
However, it is in private tutoring that you'll find the best pay, allowing you to charge around €20-30/hr or even anything that's competitive in the area, once you have one student that likes you, passaparola or word of mouth will almost automatically grant you teaching-monopoly in that neighborhood.
If you're more interested in teaching as a means of building up savings, Italy might not be your best bet until you breach into the private tutoring world. Expenses like groceries and commodities are very accessible, but rent is likely to take a large portion of your salary each month. On an average school salary, you shouldn't expect to see too much leftover at the end of each month, unless you're topping it up with tutoring.
Where to teach English in Italy
For Italians, there are very specific cultural differences between the North and South of Italy, but all throughout the territory the dolce vita stands as the reigning paradigm for the Italian way of life, long lunch breaks, coffee breaks, organic EVERYTHING, aperitivo with friends, beautifully balancing work life.
Some destinations have a very soulful vibe and others a more luxurious feel but no matter where you go, you'll find frescoes inside churches, art museums, amazing architecture, and high-quality culinary experiences.
Italy has a huge choice of cities and towns to call home. Here are some of the top picks:
As the capital and largest city in Italy, this ancient metropolis has something for everyone. Located almost precisely in the middle line between north and south, Rome is dense in archeological sites, breathtaking landmarks, art museums, Roman pizza, and gelato. Every corner here makes you feel like you're in a Fellini movie.
Many Italians will prefer Rome to work and not to live in as it has a reputation for being chaotic, however, any roman will tell you… Roma Caput Mundi.
Located in Lombardy, a region in northern Italy. The fashion capital of the world has a very modern and cosmopolitan vibe, known for its high-end and the extravagant lifestyle of many of its citizens. The most notable landmark is the imponent Duomo di Milano, a perfect model of Gothic architecture. Art fans can also visit the Santa Maria Delle Grazie convent, which houses the world-famous mural "The Last Supper" by Leonardo da Vinci.
Milan might be one of the easiest cities to find work as an ESL teacher and there's high demand for private tutors for English tests such as TOEFL and IELTS.
Oh Naples… The Italian music, the lively local dialect, the world-famous cuisine, Naples proudly represents the epitome of the Southern Italian culture, and is also home of some of the most important archeological sites and museums in the country. Just like Rome, Naples can be somewhat chaotic, but its beauty and culture will exceed every expectation.
Neapolitans are very loud, which can be a cultural shock for many Americans, but they have the kindest hearts and are eager to share their culture with anyone interested. Naples is old-world all the way through. Teaching in Naples can be one of the most beautiful experiences of your life.
(Neapolitan pizza-making has been awarded the status of UNESCO intangible human heritage! If this doesn't give you enough of a reason to go, we don't know what will.)
Renaissance, renaissance, renaissance. Florence is one of the most visited cities in Italy, best known for the unique architecture and romantic feel which inspired renaissance geniuses like Caravaggio, Michelangelo, Leonardo Da Vinci, Raffaello, and many more.
Being a smaller city, ESL teachers may encounter more competition than in larger cities like Milan and Rome. Florence has poetry and good food as its very essence, and as a most-loved tourist destination, here too, mother tongue English teachers are highly requested.
Home of the oldest university in Europe, Bologna is the capital of the Emilia-Romagna region. With its own leaning tower, it has just as many architectural landmarks as any of the main cities, with an extra touch of Italianness.
If you choose Bologna as your destination make sure you learn some Italian so you can shine at the local trattorias. You'll find a true jewel of Italian beauty and the first choice of many college students (great for tutoring opportunities).
Italy's culinary culture is world renowned, striving for perfection in every recipe. Not only is Italian food a gift to your senses, but the Mediterranean diet has been officially declared as the ideal one for humans everywhere! And yes, pasta is eaten daily, however, the golden rule here is to be mindful of your portions. Italians don't let a day go by without fresh fruit and veggies on the table, and our sweet tooths will love to know, dessert and Nutella are included in this diet!
English teaching requirements in Italy
With Italy, and much of Europe,  your path to legal work will be down to which passport you hold. If you're from an EU country you'll be able to work in Italy with much more freedom than if you have any other passport.
If you don't have an EU passport, it can be more difficult. Schools are more reluctant to go through the paperwork, time and expense needed to arrange a work visa. One common path can be to enroll in an Italian language class at a university/college and gain a student visa. With a student visa you can legally work up to 20 hours per week. This gives you the benefit of being able to learn the local language, build up paid teaching experience, and potentially search for a full-time job with a work permit for when you complete your studies.
Non-natives: If you don't have a passport from the UK/US/IRE/CAN/AUS/NZ/SA, you can still work in Italy, but it can be more difficult. They have a preference for native-speaking teachers, with a large supply coming from the UK. If you are a non-native speaker, it could be worth getting an IELTS/TOEFL certificate to show your English fluency.
EU/Non-EU citizens: If you have an EU passport you'll find it much easier to gain work in Italy, as schools won't need to do anywhere near as much paperwork to hire you. Having some previous teaching experience, or a degree related to teaching, would be beneficial if you don't have an EU passport.
Those without degrees: You do not need a degree to legally work in Italy! (woo). However, employers to appreciate candidates with a degree, so having one would certainly be beneficial.