Teaching English in Jordan
Everything you need to know about teaching English in the land of hidden wonder.
Jordan is one of a kind. With high standards of living in beautiful cities surrounded by deserts, you'll feel like living in a fairy tale. It has a lot to offer skilled English teachers, and not just in terms of work. Living in Jordan will surely be the experience of a life time in more than one way.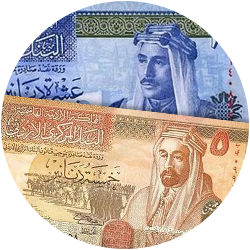 Wages
Wages
Teaching wages can vary quite a bit in Jordan depending on your qualifications and experience.
Monthly earnings sit somewhere between $600-$3,500.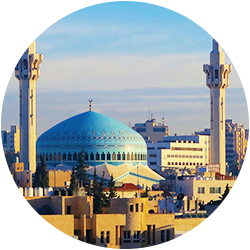 Lifestyle
Lifestyle
Jordan is famous for its friendly, welcoming people, and its historic cities surrounded by desert.
While it doesn't have many shiny new sky-scrapers, you can enjoy a comfortable life here on a teacher's wage.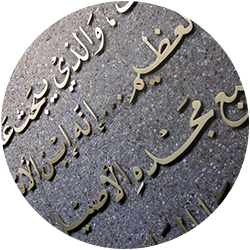 Communication
Communication
Arabic is the only official language in Jordan, and is used for daily communication.
However, it's quite common to find English speakers, especially with younger generations or in areas with plenty of tourists.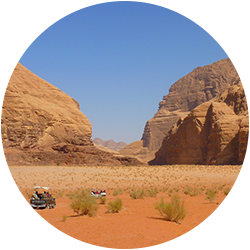 Climate
Climate
There are four seasons in Jordan, but they're all mostly hot and dry with cool evenings.
However, you will find some variation whether you're in the desert, the valley, or the mountain plateau where things get cooler.
How much you earn strongly depends on your qualifications, which in turn decide what kind of jobs are within your reach. Land a job in a private international school and you'll be in a great position to enjoy life and still save money.
This is largely split into the following rates of pay:
| City type: | Wages: |
| --- | --- |
| Public schools: | $600 – $1,400 p/m |
| Language centers: | $800 – $2,000 p/m |
| Private international schools: | $1,500 – $3,500 p/m |
| Private tutoring: | $10 – $20 p/h |
For most teachers, your saving potential depends on your lifestyle choices as much as your salary. You can enjoy simple meals from $5-$7, or spend $20 on something a little fancier. Rent is quite affordable too, with options to save more by living outside of the city, or spend more if you prefer the convenience of life in the center.
Salaries on the lower scale might seem quite low, but the cost of living in Jordan is quite low, some positions include benefits such as free housing, and wages are essentially tax-free!
Where to teach English in Jordan
Jordan is not a country for those looking for new and shiny cities with ultra-modern malls and skyscrapers. You find those places in the UAE. Jordan is a place for people who want to experience living in a place that is developing but don't mind a comfortable lifestyle at the same time.
The country has a population of almost 10 million and most people live in cities, as life out in the desert is far from easy. Trips to the desert are of course a must, but teaching opportunities are only found in the country's few big cities.
Here are some of the most popular places for English language teachers in Jordan:
Jordan's capital city, largest city, and teaching hotspot. Most English teaching jobs are here, in the city that counts a population of about 4 million. Amman is home to international schools, language centers and lots of expats in need of private tutors for their children.
In your free time, you have delicious local dishes to try, Roman ruins and museums to explore and coffeehouses to chill at. Malls, art galleries, restaurants, cafes, and bars can be found in Western Amman. For a more traditional vibe, you head out to the Eastern part of the city.
As Amman is expanding and slowly closing in on the much smaller city Zarqa, teaching opportunities also move. They aren't plenty, at all, but if you're lucky and a smaller city vibe is for you Zarqa is a good place to try your luck.
Amman is not too far away and this is where you might have to move for entertainment on the weekends, but this small town is definitely not boring. If you want to experience local life with little foreign influences in a town much quieter than Amman, this is the perfect spot for you. Markets, food stalls, everything here is Jordanian.
The second largest city in Jordan and a place where the demand for English teachers is on the rise. Which isn't too strange, given Irbid is a university town.
Irbid is located in the far north of the country and home to about 1.8 million people. So there are plenty of opportunities to make friends and since Amman is only 90km away, a weekend trip to the exciting capital is not unrealistic.
But you don't have to leave town to have fun. Shopping malls, scenic drives around the area and archaeological sites provide plenty to see and do. Local food is absolutely delicious, but international cuisine is available to satisfy any cravings for a taste from home.
Jordanian cuisine might not ring a bell immediately, but we're sure you know some of the classics on this list. Eating 'mezze', small dishes to share with the people at your table, is common and a great way to socialize over food and familiarize yourself with a lot of different signature dishes in just one meal.
English teaching requirements in Jordan
Working as an ESL teacher in Jordan includes a number of benefits, but also a list of demands. The standard for education is high, so you will need more than just a teaching certificate. While there may be exceptions in certain circumstances, for the most part, you'll need to meet the following criteria:
Non-natives: If you don't have a passport from the UK/US/IRE/CAN/AUS/NZ/SA, you can still work in Jordan. However, they do have a strong preference for native speakers.
Degrees, experience & teaching certificates: It is possible to find work in Jordan with just a TEFL certificate and a degree (in any subject). However, they do prefer teachers with education-based degrees, previous teaching experience, or a teaching license from your home country.
For tutoring, you don't necessarily need these papers, but still the better qualified you are and the more experience you have, the better your chances on landing a tutoring gig.