Everything you need to know about teaching English in breathtaking Laos.
Laos sits comfortably spaced between Thailand, Cambodia, Myanmar, and China; giving it a rich cultural diversity. English teachers are often drawn to this lesser-known country in Southeast Asia because of its beautiful mountain landscapes, friendly locals, and laidback lifestyle. Laos is also a great option for teachers who are just getting started in their teaching careers and want a lot of free time to explore this incredible country.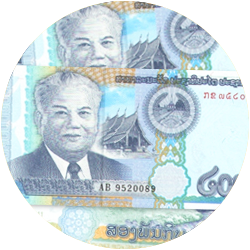 Wages
Wages
Earn between 6,000,000 – 13,000,000 kips a month.
That's $800-$1,500 USD.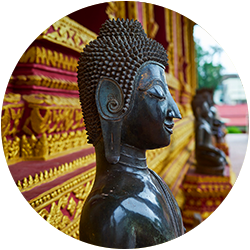 Lifestyle
Lifestyle
A common phrase associated with Laos is, "please don't rush." because the lifestyle of Laotians is extremely relaxed and easy-going.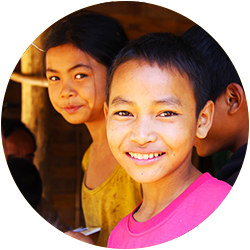 Communication
Communication
The official language in Laos is Lao, although there are many dialects of the language spoken throughout the country. As a former colony of France, French is the most common foreign language, and English is the second.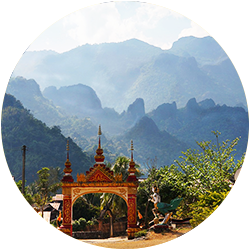 Climate
Climate
The climate in Laos is tropical, so it doesn't have the typical summers and winters. It is generally hot and humid year-round, with a dry season from March to May and the rainy season from May to October.
In Laos, paid English teachers can earn 5,000,000 to 13,000,000 kips, or $600 to $1,500 USD, a month at language centers and international schools. To work in these positions, a Bachelor's degree and TEFL certification are required, and variations of pay are based on previous work experience.
Class type:
Wages:
Public school
₭5,000,000-₭10,000,000

($600-$1,100)

Private/international school
₭6,000-₭13,000,000+

($700-$1,500+)
There are also many volunteer opportunities to teach in the rural regions of the country. While these are unpaid, accommodation with a host family and meals are typically provided. The benefit of volunteering to teach English is that there are no requirements of a TEFL or Bachelor's degree. This lets you gain quality teaching experience and you typically work fewer hours allowing for time to travel.
Teachers at language centers and international schools generally have to find their own accommodation. While the cost of living in Laos is very low, the average one-bedroom apartment in Laos is $400 to $500 per month (so it can work out better to share an apartment with other teachers).
Where to teach English in Laos
Laos is increasingly becoming a destination for many heading to Southeast Asia. With mountain ranges, large rivers, and a warm climate, Laos is rich in biodiversity and offers many outdoor activities such as trekking and river rafting. There are also hundreds of Buddhist monuments, temples and markets in and around its cities.
Some of the top places in Laos for English teachers are Vientiane, Pakse and Luang Prabang:
Vientiane is the largest city and capital of Laos situated on the border of Thailand. It is a cultural melting pot with a mesh of colonial French influence and Buddhism.
There are many historical monuments, museums, and temples around the city. Also, there are hundreds of cafes, restaurants and several bustling markets. There is also a famous Buddhist festival in November which draws in thousands of visitors every year.
Pakse is the second largest city in Laos, and is located in the south. Pakse is a vibrant city, but most are drawn there for its surroundings.
Located at the mouth of the Xedong and Mekong Rivers and near a biodiversity conservation park, there are many outdoor activities and ancient sites around this historic city.
Luang Prabang is an ancient village located in the rural northern region Laos. Situated on the edge of the Mekong River and completely surrounded by mountains and waterfalls, Luang Prabang is one of Laos' top destinations.
It is also a UNESCO World Heritage Site for its preservation of traditional Laotian and colonial-blended townscape.
You might not be familiar with Lao cuisine as it doesn't have much of a presence outside of South-East Asia. However, that doesn't mean it's not worth trying. The food in Laos is based heavily off fresh local ingredients, infused with sweet and fiery spices. Contrasting with these timeless dishes you'll also find a mix of French cuisine, a remnant from Lao's colonial history, with baguettes sold throughout most cities.
English teaching requirements in Laos
The school year in Laos for most schools is from August to June, but there are teaching positions available year-round with private language schools and volunteer projects. To work in an international school or language center, both a bachelor's degree and a TEFL certificate are required. However, these qualifications are not required with volunteer organizations.
While every year more and more jobs in Laos are posted online, there are still many positions that can only be found in person. For this reason, many English teachers in Laos find work after arriving in the country. As a result, it's often difficult to secure a work permit in advance.
Most teachers enter Laos on a tourist visa, which is obtained upon arrival at customs and lasts for 30 days. This can be extended to 90 days for a fee, or you can leave the country for a short time to restart your 30 days.
Non-natives: If you don't have a passport from the UK/US/IRE/CAN/AUS/NZ/SA, you can still legally work as an English teacher in Laos!
Teachers without degrees: If you don't have a degree you can still volunteer in Laos and gain valuable teaching experience.