Everything you need to know about teaching English in the land of hospitality.
Oman has something for everyone and is one of the Middle East's best-kept secrets. Oman features over 2,000 km of coastline, rugged mountains, canyons, waterfalls, sand dunes, and friendly people. With high salaries and a low cost of living, it is no wonder that many English teachers end up staying for several years. In Oman, you will have no shortage of options when it comes to exploring the country and the hospitable culture around you.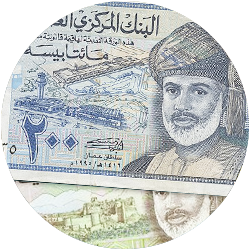 Wages
Wages
Teachers with education-related degrees can earn between US$2,500-$3,000/month, and other TEFL teachers can earn US $1,000-$2,000/month.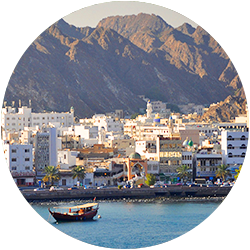 Lifestyle
Lifestyle
Oman is a laid back country with beautiful beaches, mountains and deserts. 
Communication
Communication
Arabic is the official language but English is widely spoken.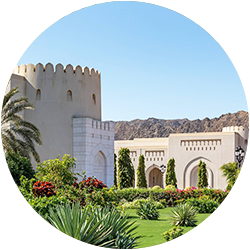 Climate
Climate
Very hot and dry throughout most of the year, except for some areas which experience monsoon season.
Qualified English teachers in Oman can expect to earn a high, tax-free salary. Most schools prefer to hire teachers with a national teaching certificate from their home country (such as a PGCE), or a degree related to teaching, in addition to 1-2 years of experience. Schools typically pay for housing, round trip flights, health insurance, and utilities. N
New teachers or those with just a general degree and a TEFL certificate can still find teaching jobs in language centers and some schools, though it is a bit more difficult.
It's also possible to earn quite a lot through private tutoring, with most teachers charging between $25-50 p/h. Those who teach exam preparation lessons can usually earn on the higher end of the scale while those who offer basic conversation lessons will be on the lower end.
| Class type: | Wages: |
| --- | --- |
| Language center | $1,000-$2,000 p/m |
| International school | $2,500-$3,500 p/m |
| Private tutoring | $25-$50 p/h |
Teachers can quite easily save US$500-1,000 per month in Oman, since the cost of living is relatively low. Oman is an excellent choice for those looking to pay off lingering student loans or who want to save money for traveling around the region.
Where to teach English in Oman 
Teachers who are looking for a laid back lifestyle surrounded by friendly people will feel at home in Oman.
Omani people take pride in being hospitable to guests and this quality is reflected in the students' respectful behavior in the classroom. While most teachers will likely teach in the capital city of Muscat, other teaching positions can be found throughout the country if you take the time to look.
Here are some of the most popular places to teach English in Oman:
From beaches, to mountains, to bustling city markets, there is something for everyone in Oman's capital city.
Muscat is the most popular place for English teachers to live and there are various teaching options to choose such as universities, international schools, and language centers.
Muscat might be worth considering if you want the advantage of living in a modern city while still having the opportunity to go trekking, explore caves, and visit historical landmarks.  Some of the most popular things to do in Muscat include visiting Al Qurm Beach, strolling along the Mutrah Corniche in the evening and shopping in the Mutrah Souk.
Salalah is located in the south, close to the border with Yemen, and has a subtropical climate during the monsoon season. This area features some of the most beautiful beaches and waterfalls in the country and tends to be more conservative than Muscat.  Unlike many other areas in the Arabian Peninsula, Salalah has lush green mountains, wildlife, and cooler temperatures.
When you decide you want to explore somewhere else, this is always convenient thanks to an international airport which can connect teachers to Muscat and Dubai in only 1-2 hours.
Schools in Salalah do not post open positions on job boards as frequently as schools in Muscat and it is best to directly contact schools if you are interested in teaching in this area.
Sohar is located along the highway between Muscat and the United Arab Emirates. It boasts many mountains and valleys and is the perfect destination for those interested in hiking.
Like Muscat, teachers will find the town of Sohar to have several public parks, beaches, a cinema, and a museum. Sohar may be a good fit for you if you are looking to have opportunities to practice Arabic, meet locals, and live in a smaller town. Teaching positions are best found by directly contacting schools.
Food in Oman is packed full of flavor thanks to various spices and herbs and centuries of trade with Indian, Arab, and Persian countries. It is no surprise that seafood is especially abundant since most cities are located along the coastline. Some traditional Omani foods are:
English teaching requirements in Oman
Oman offers teachers high wages and a great standard of life, but in return it requires teachers to have experience and the right paperwork to prove their worth. Degrees in education (even master's degrees), and national teaching certificates are common requirements.
After securing a job, teachers should expect for the application and visa process to take between 1-3 months as authorities are very strict on issuing visas. Schools are responsible for securing your visa prior to your arrival and they must be able to must demonstrate that you are highly skilled and that an Omani citizen cannot perform the job.
Take note that since the school has spent a lot of time and money arranging your visa that it is difficult to switch jobs once you have arrived in the country if you decide you do not like the school. To switch jobs, one must obtain a No Objection Certificate from their school which signifies that they are accepting that you can seek employment elsewhere. If you cannot obtain this certificate, you must leave the country for at least two years and begin the application process again.
Non-natives: If you don't have a passport from the UK/US/IRE/CAN/AUS/NZ/SA, you can still work in Oman, but it's quite difficult. Having a high TOEIC/IELTS score, a degree from a native English-speaking country, 2+ years of experience, and a national teaching certificate would help.
Teachers without degrees: If you don't have a degree of any kind, you'll find it extremely difficult to find legal teaching work in Oman. You'd be better off considering another country, as it's very unlikely that a school could get a work permit for you.