Teaching English in Saudi Arabia
Everything you need to know about teaching English in the land of golden deserts.
Saudi Arabia is a mysterious, yet fascinating country to explore and teach in. It's full of surprises and has everything from modern cities, the blue waters of the Red Sea, upscale shopping malls, desert adventures, and some of the most lucrative salaries in the world. Teachers with curiosity and a sense of adventure will likely find Saudi Arabia a captivating country to call home.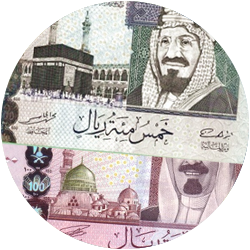 Wages
Wages
Earn between 9,000-17,000 SAR (Saudi riyal) per month.
(That's US$2,500-$4,500!)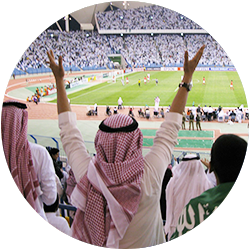 Lifestyle
Lifestyle
Saudi Arabia is a conservative, yet modern country. Teachers here have a very comfortable lifestyle, but should respect the law of the land.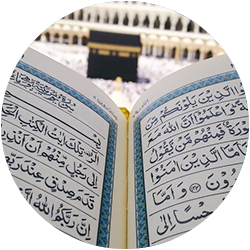 Communication
Communication
Arabic is the official language but English has become increasingly widespread among the younger generation.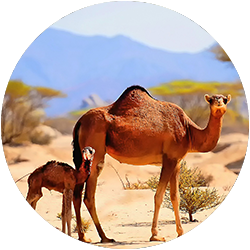 Climate
Climate
Extremely hot and dry throughout most of the year, but expect some cooler days and a little rain in the winter months.
TEFL wages in Saudi Arabia
Teachers who are adventurous, looking to earn a high salary and experience a unique culture may find Saudi Arabia to be the perfect place.
Teaching positions tend to be a bit easier to acquire here than in other Gulf countries and many will find this a great place to start out. Even teachers who have only a Bachelor's degree, little to no teaching experience and a 120 hour TEFL certificate can find it possible to acquire a job with a reasonable salary. Salaries tend to range from US $2500-4500/month with housing, and transportation included.
For teachers with national teaching certificates, 2+ years of experience, or degrees related to education, you might also find roundtrip flights included in your contract. Top pay and preference is usually given to those who have a Master's degree or higher and several years of experience.
| Class type: | Wages: |
| --- | --- |
| Elementary or secondary schools | $2,500-$4,000 p/m |
| Universities | $4,000+ p/m |
Teaching in Saudi Arabia can be a great way to save up money in just a few years. Most teachers are able to save $1,500+ each month as long as both housing and transportation are included in their contracts.
Where to teach English in Saudi Arabia
Saudi Arabia is an oil-rich and very conservative country, but with the right expectations, teachers can find teaching here to be a rewarding experience.
Prospective teachers should be aware that students are segregated depending on gender and most advertisements for teaching positions will specifically state whether the applicant should be male or female. Those who are open to this type of lifestyle will find Saudis to be some of the friendliest and most welcoming people around. Saudi Arabia is sunny year round and there are various regions to explore.
Let's take a look at some of the most popular destinations for English teachers in Saudi Arabia:
Riyadh is the capital city and likely the first place teachers will visit in Saudi Arabia.
The majority of the teaching positions can be found here and these positions can range from teaching in a university, language center, elementary or secondary school, or by giving private lessons.
Teachers here can enjoy a variety of activities such as shopping at the Deerah Souk, enjoying views of the city from the Sky Bridge at Kingdom Center, or enjoying some of Riyadh's numerous shopping malls. If you want to get out of the city, quad biking at the Red Sand Dunes or going on a road trip are always an option since the price of petrol is very cheap.
Jeddah is located in Western Saudi Arabia on the Red Sea coast and tends to be a bit less conservative than Riyadh.
Like other Saudi cities, it is possible to live inside a compound with other expats. Life inside compounds tends to be more relaxed and similar to what one would experience in Western countries.
Some popular activities include visiting King Fahd's Fountain, the Floating Mosque, snorkeling in the Red Sea, and exploring the historical district of Al-Balad.
Damman is located on the Persian Gulf coast and only a 1-2 hour plane ride from Kuwait, Bahrain, and the UAE.
Here, teachers can find numerous teaching opportunities. The headquarters of Saudi Aramco is located in nearby Dhahran and teachers can often find many lucrative positions teaching business English to its employees.
Damman is also an international port city and offers many restaurant options, private beaches, and of course plenty of shopping.
Teachers who are looking to enjoy some of the best in Middle Eastern cuisine will not be disappointed with food in Saudi Arabia. Although eating pork and drinking alcohol is illegal, this can easily be traded in for delicious grilled chicken or beef and Arabic coffee.
Some of the most popular dishes in Saudia Arabia include:
English teaching requirements in Saudi Arabia
Teaching English in Saudi Arabia might not be for everyone and it is best to do your homework before signing a contract. Teachers should be aware of the local culture, laws, and are expected to dress modestly. Those who can adopt an attitude of "When in Rome…" will likely find Saudia Arabia to be an interesting place that is full of culture, tradition, and hospitality.
For visa purposes, many schools and universities will only consider those with a US/CAN/UK/IRE/AUS/NZ passport. Most schools require a minimum of a TEFL certificate and a bachelor's degree, though they have a preference for master's degrees. Obtaining a visa can be a lengthy process since the government is very strict on issuing work permits and the process can take 2+ months.
Non-native teachers: If you do not have a passport from the US/CAN/UK/IRE/AUS/NZ, you can still get a job in Saudi Arabia but preference is given to those with near-level proficiency in English, previous teaching experience, and a degree from an English-speaking country.
Teachers without degrees: Unfortunately, if you don't have a degree you'll find it extremely difficult to find a position in Saudi Arabia.