Teaching English in the UAE
Everything you need to know about teaching English in the land of dreams and fantasies.
The UAE is at once exotic and familiar to people from the United States. Walking along promenades like Jebel Shams at night can feel as much like Santa Cruz as it does other market areas in the Middle East. The mega malls are full of western brands and restaurants, and the skyscrapers on the desert floor can feel at times oddly reminiscent of Las Vegas.
The atmosphere of Dubai is often compared to Disneyland, and for good reason, somehow always feeling both impressive and festive. However, aside from the visible representation of the hyper-materialist consumer culture, the UAE is an extraordinary crossroads of cultures from North Africa, Asia, and other parts of the Gulf and Middle East.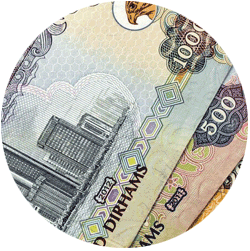 Wages
Wages
Between $2,500-$5,500 per month.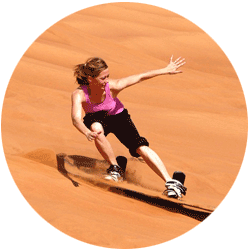 Lifestyle
Lifestyle
As the entertainment capital of the middle-east, there's plenty of fun to be had – just make sure to observe the local culture.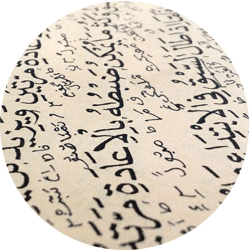 Communication
Communication
Arabic is the official language, but with so many foreign workers it's easy to find English speakers on the street.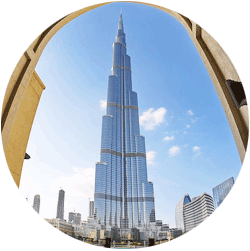 Climate
Climate
Hot! The winter months cool off a little and be quite comfortable, but you'll surely be thankful for AC in the summer heat.
Teaching wages in the UAE are among the highest in the world, but are reserved for teachers with qualifications and a bit of experience (usually between 2-3 years minimum).
Teachers may work at vocational colleges where there is high demand, in public schools, or at private and international schools. The average salary for vocational or language schools is 9,000-15,000 AED or $2,500-$4,000, with the average for new hires somewhere around 11,000-13,000 AED or $3,000-$3,500 per month. The range for Private schools or International Schools is similar at 10,000-14,000 AED or $2,700-$3,800 per month, though the UAE is a sort of strange exception to the rule that International Schools tend to pay more than public schools worldwide, as in the UAE public schools will pay slightly more. In the UAE public school system, teachers can expect to earn 12,500-20,000 AED or $3,500-$5,500 per month.
| Positions: | Wages: |
| --- | --- |
| Language schools: | $2,500-$4,000 p/m |
| International Schools: | $2,700-$3,800 p/m |
| Public Schools: | $3,500-5,500 p/m |
Regardless of school type, most contracts will be 2-3 years in length and will come with additional benefits such as accommodation, flights to the country as well as flights home for holidays, health insurance, annual bonuses, and bonuses for contract completion.  With these wages, benefits, and contracts, you often find teachers working for a couple of years in exotic South East Asia, and then a moving to earn some big bucks in the UAE.
Where to teach in the UAE
With some countries, it can be hard to choose which of the many locations to live in. However, with the UAE you won't have that problem.
Dubai
Most people think of Dubai first when thinking of the UAE. Dubai is a weird wonderland for many western expats and can offer a ton of convenience if not luxury to those teaching there.
Expect after making friends in the city to spend a couple hundred dollars on weekend champagne brunches, and passes to the waterpark or other nearby entertainment. You can experience skydiving, go skiing, and even hold a penguin inside the Mall of the Emirates, or look through wonderful exhibits in the different international pavilions of Ibn Battuta mall. The malls alone will give enough to do on weekends for years, though there is also one of the world's largest and most efficient airports in the city to help connect you to travel options on long weekends or holidays.
Dubai is an excellent choice to call home for energetic souls with big appetites and a healthy love for shopping and nightlife.
Abu Dhabi
Abu Dhabi is richer than its rich neighbor Dubai, and is so rich in fact, that where Dubai is still showing off a bit, Abu Dhabi feels like it has nothing to prove at all anymore.
The effect of this is a more low-key environment and the ambiance of a more typical city. While there is still nightlife and shopping galore, it has a sort of maturity and tends to attract as many intellectuals as party-goers.
If you like high style without bling and swagger, Abu Dhabi may be a more tasteful option for work and play.
Sharjah and Ajman
Sharjah and Ajman in the North are a bit more conservative than Dubai or Abu Dhabi, but still have plenty of reasons to visit.
Sharjah has many museums alongside its carnivalesque waterfronts at Al Quasba and Al Majaz, and restored traditional architecture near the art museum and the gorgeous central market. Ajman also boasts great architecture and some nice areas on public beaches. Both cities have plentiful shopping and can meet needs for convenience, as well as leisure activities.
The UAE has its own food rituals and obsessions. Given that the country is around 90% immigrant population, some of the most popular foods come from the largest ethnic populations which are Indian, Pakistani, Bangladeshi, and Philippine alongside Emirati culture. Typical Emirati cuisine includes shwarma, hummus, and baba ganoush, though if you are invited to a wedding or to spend Eid or Ramadan festivities with locals you may get to try more exotic dishes like stuffed camel or al harees. If you like food from the Indian subcontinent than you are also in luck and can try all sorts of specialties from that area of the world.
Whichever foods you decide to eat, be sure to wash it down with a lime and mint beverage, the preferred refreshment in the Emirates.
English teaching requirements in the UAE
Schools in the UAE expect teachers to have several years of experience in the classroom, and to bring developed teaching skills to the table. Due to the high competition for jobs, it can also help if your bachelor's degree is related to teaching, if you have a master's degree, or if you have a national teaching certificate from your home country.
Compared to other regions, the workweek can be a bit longer in terms of hours, and may feel slightly different at first – beginning on Sunday and ending on Thursday. Though you will not have to wear traditional clothing or a headscarf to work (for women), modesty standards are very high for female teachers in particular and it's important to have a clean and modest appearance at all times.  
If you don't meet all these requirements, check out our blog post on tips, or get in touch to find out what other opportunities are available to you.