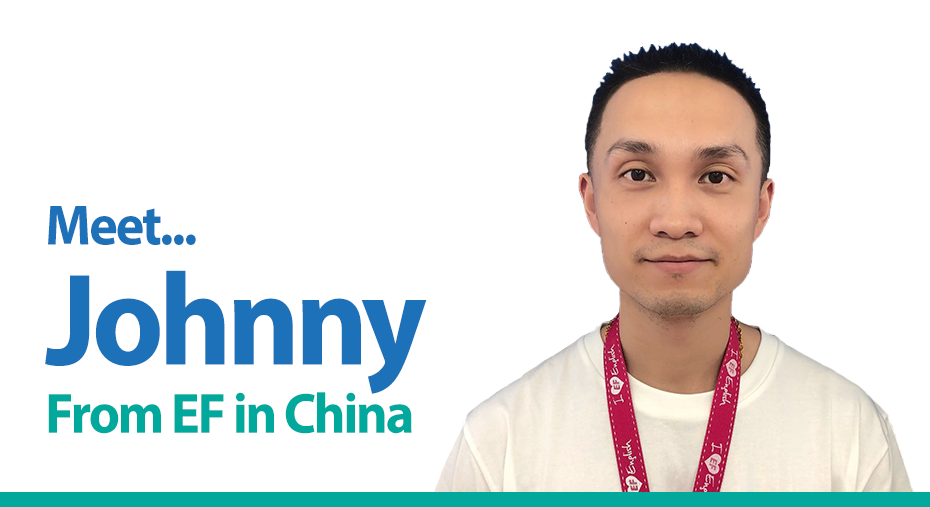 Johnny works for Education First (EF) – one of our trusted partner schools in China – and helps our graduates make a safe and smooth transition into teaching.
"Hey, I'm Johnny Xia, a Senior Foreign Affair Specialist at Education First in Wuxi, China. If you're interested in Chinese culture and history, even looking for ESL teaching job, don't hesitate to contact me!"

How long have you been working at Education First, where are you based, and what is it like?
"I've been working at Education First, Wuxi, China for six years. I used to work as a course consultant in the first three years, and became their Senior Foreign Affair Specialist in 2016.
My responsibilities here involve overseeing the recruitment of teachers, assisting with their visa applications, and making their journey into teaching straightforward."

What type of school/organization is Education First?
"EF Wuxi franchise language school opened in 2001 and since then we've been growing rapidly. We now have 8 schools with more than 50 full-time native English teachers and over 2,000 students studying with us in Wuxi."

What makes your schools a good choice for new teachers?
"As a well-established member of the global EF community, we provide on-going training for our teachers, along with academic support, and promotion opportunities within the EF network. Teachers can really make a full career within our schools, whereas with others they might not have the same ability to expand their career further into teaching.
We also include free online Mandarin lessons for our teachers, giving them the opportunity to immerse themselves deeper in life in China."

What should teachers prepare for before teaching at your schools, and what do expect/require from them?
"We suggest teachers obtain a good 120-hour TEFL certificate no matter if you're teaching at our schools or finding an ESL teaching job elsewhere in China. In one sense, a decent TEFL certificate is one of the most important certificates you need besides a bachelor's degree."



What does a new teacher's first week/month look like in your schools?
"To help you prepare before coming to China, your DoS (Director of Studies) will provide your first two weeks' schedule, so that you'll have an idea of what to expect when you arrive.
After arrival, you'll have training and observation classes from your DoS and our Senior Management teachers, so that you can prepare before taking the reins in the classroom.
Our administration staff will also assist our teachers with getting settled into life in China – so this includes things like apartment hunting, opening a banking account, etc."

What types of benefits do your teachers enjoy?
"We provide a full work visa (Z visa), a competitive monthly salary, housing allowance, flight allowance, quarterly performance bonuses and monthly floating wages, attractive paid holidays and worldwide health insurance."

What is it like to live in Wuxi?
"Wuxi is a large town by European standards sandwiched between Shanghai and Nanjing in Jiangsu Province. We're positioned nicely in southern Jiangsu province, China. The city borders two other large cities, Changzhou to the west and Suzhou to the east, and borders Zhejiang Province as well in the south. It also covers a coastline of the Yangtze River in the north and two separate coasts of Lake Tai.
Many locals call it the Oriental Geneva because of its pace of development compared with other Chinese towns. This means it's a comfortable place for foreigners to live in: there are big shops selling everything you could possibly need, the transportation system is good with easy connections to anywhere in China.
There is an interesting mix of modern and traditional architecture, with many different cultural activities to be seen. Aside from the downtown areas, you'll also find the famous Lake Tai, and lots of small and scenic neighbouring towns which make ideal day trips."

What does your average class look like?
"We currently run 8 language schools in different parts of Wuxi, all located within convenient access from public transport.
We teach a variety of classes from 3 years old up to 18, with around 12 students in an average class (rather than the 30-40 students you might find in a public school class). This makes it much easier for the teacher and gives students more time to engage with the teacher each lesson.
Our classrooms are nicely decorated, and come with modern electronic touch screens as standard. We also provide our teachers with lesson materials and resources which they can use to form their lessons around."

Apply for a position with Johnny and EF
If you'd like to join the team and teach English with Johnny you can enter your details below. We'll get in touch to run through the requirements, and help you to apply.
Not sure about China? Contact us to discuss your options.