The South Korean visa process for English language teachers
By ESL Teacher Thomas Patrick
Thomas is an ESL teacher from America. He's been living in South Korea for two years now, and teaches English to primary and early highschool students.
South Korea has begun to carve its name into the international scene in recent years. Large companies like Samsung, LG, Kia, Hyundai and countless other brands call this country home and Seoul has emerged as one of the fashion, tech, and international trading hubs of the world, rivaling even Tokyo and Hong Kong.
Needless to say, this explosion in international presence has put a large demand on the population to learn English as a second language. In fact, a large portion of children even attend English speaking kindergartens or attend after-school academies called Hagwons to bolster their English skills. This demand for English has caused native speakers from around the world to flock to South Korea in hopes of work, travel, and adventure.
Becoming an English teacher in Korea is an amazing experience but to get things started you will need to trek the lengthy process of procuring a visa. So, let's get started.
Which visa will I need to teach English in Korea?
To teach English in South Korea you will need an E-2 visa. You can teach on other visas, but unless you're a certified teacher in your home country, an E-2 is your only option to start with (if you decide to stay here long term there are options to "upgrade" your visa status).
Who can get an E-2 visa?
To obtain a visa to teach English in Korea you will need to come from a native English speaking country. Many schools prefer to hire North Americans (US and Canada) as the accent is considered the most desirable but if you're from the UK, Australia, New Zealand, Ireland, or South Africa you will have absolutely no issues finding work.
There are literally thousands of jobs at any given time all across the country. You must also have a clean criminal record and a bachelors degree in any subject.
How do I start?
To get a visa for South Korea you will need to already have a job secured before you can even begin to apply with the government. This is because your new job needs to essentially "sponsor" you.
There are countless recruiting agencies you can work with and they can find you work quickly and efficiently. They are a bit pushy and some recruiters are better than others but you can realistically have a job offer within just a couple days.
Are you interested in teaching in China? Apply for our full job placements.
How long does the process take?
Get ready for the long haul because the whole process can take 2-4 months as there is a lot of downtime waiting for documents.
The Documents
Here's a list of all the things you're going to need to get an approved visa in South Korea.
1. A clean background check:
US: You will need to get an FBI criminal background check. You will then need to get this document apostilled.
Canada: A notarized and verified copy of a Certified Criminal Check must be obtained
UK: An apostilled copy of a Basic Disclosure must be obtained
Ireland: Must obtain an apostilled copy of a Police Certificate
South Africa: You will need to obtain an apostilled copy of a Police Clearance Certificate
Australia: Must obtain an apostilled copy of a National Police Check
New Zealand: Must obtain an apostilled copy of a criminal record check from the Ministry of Justice
All of these criminal background checks cannot be older than 6 months. But they do take some time to get back so you can get this started as soon as you decide to teach in Korea.
2. A notarized/apostilled copy of your 4-year degree needs to be obtained.
3. Some schools require university transcripts so it's best to order a few copies so you have them in case you need them.
4. A completed health form
5. 4 passport sized photos of yourself
6. A signed work contract
7. Your resume
Once you get all these things together you will need to send them to your recruiter or school.
Sending it off
You'll want to use a company like Fed Ex or another larger carrier, not your local post. You should look to use a company that can get your things to Korea efficiently, this service usually runs around $40-60.
When your recruiter receives your documents, he or she will then submit them to the Korean government who will then provide them with a number for your visa application. This should take around a week. Once you have this number you can begin the next step.
Going to the consulate
At this point you will now need to go to your local Korean consulate. Bring two passport-sized photos of yourself and a completed E-2 visa application form. There will be a charge to submit the application which will need to be paid by money order or cash. They will also hold on to your passport while your visa is processing.
IMPORTANT: Your passport MUST have at least 6 months before it expires but realistically your passport should have at least a year and a half before expiration so it does not expire while you're abroad.
The consulate will contact you when your application is complete and you will be able to go pick up your passport with your newly acquired E-2 visa!
After you land
After arriving in Korea, you will want to get your ARC as soon as possible. Your ARC is your Alien Registration Card and will serve as your identification during your time in Korea.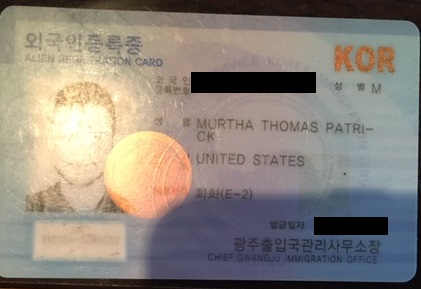 To obtain one you will need to get a medical check which will check you for various things and includes a urine drug test which you MUST pass in order to be allowed to work in the country. So, if you are from a place where marijuana is legal you will have to abstain from use for a few months before you go. Your school should help you set this up.
To wrap it up
The E-2 visa process is definitely lengthy and a bit daunting. But nothing will be a surprise. In general, the most difficult part is the waiting. If you are set on teaching English in South Korea make sure to do your research and follow all the steps to the dot. Your recruiter's job is to aid you in getting to Korea so do not be afraid to ask questions and double check everything.
With all that being said teaching English in Korea is a fantastic experience and the job market has absolutely no signs of slowing down. Be open to where you want to live and teach and make sure to research your school thoroughly before accepting a job. Your recruiter will pressure you to sign up quickly but be sure to take some real time to think. Be sure to check out guides on what questions to ask your new school before you sign up and remember to make the most of your time abroad! Good luck!
---
Start your own life of teaching and travel by getting TEFL certified.
It takes only 2-4 weeks to complete and you'll receive all the training needed to become a professional English language teacher:
Click to learn about our online certification course and free job placement support.