The Thai visa process for English language teachers
By ESL Teacher Kyle Vick

Kyle and his wife both work as teachers in North East Thailand. For the last year they've been working in the Thai public school system. Next school year they'll be transitioning to an international school in southern Thailand. When he's not in the classroom, Kyle is usually freelance writing or traveling. You can follow Kyle's adventures on his blog – The Farang Life.
The first step to teaching in Thailand is the visa process. It is technically illegal to teach in Thailand without a work permit, which requires you to have a Non-Immigrant B visa. So this process is very important if you plan to work as a teacher in Thailand.
Preparing to teach in Thailand
Getting the visa is a little tricky because technically to get the Non-Immigrant B visa, you need to have a job, which may seem a little backward. With this in mind, you have three major options.
You can partner with a placement organization who will pair you with a school and help you prepare your documentation to transition to a Non-B visa when you arrive in Thailand

You can job hunt online, contacting schools in advance. When you find an open position and are hired, you can then come over on a visitor visa and the school will help you transition to a Non-Immigrant B visa.

You can come over on a tourist visa and job hunt in person (the most likely way to get a job in Thailand, apart from a placement organization). You will have up to 60 days to find a position and transition to a Non-Immigrant B visa.
Necessary documents
As far as documents go, there are quite a few you will want to have access to. Many of these documents will be used throughout each stage of the process. Here are the key ones you need to have prior to starting the process, others will be added throughout (i.e. work permit, medical certificate).
Prepare these at home:
Passport (make sure it has more than 6 months validity)

Passport photos (you will need several sets throughout the process)

Certified criminal background check (either from your home country or in Thailand, depending on where you apply for you Non-Immigrant B visa.)

Original Copy of your degree (authenticated and stamped by the Thai Embassy in your country, if possible)

Several copies of your resume or CV
Get these after finding a job:
Documents provided by your school (to verify your employment)

Completed Thai Visa application

Thai departure card (the one you received on entry, don't throw the little piece of paper away)

Official, unopened transcripts and non-official copies
It can take some time to
Visa process
The visa process will be split into a few different sections.
Non-immigrant B visa
The first step in the process of teaching in Thailand is applying for you Non-Immigrant B Visa. This can either be done in your home country or in Thailand with your school's help. If you are working with a placement agency, they will walk you through the process. It is easiest to complete the process in Thailand because most schools are familiar with the process and will help you get past the red tape, some will even pay for the process.
For this stage of the process you will need:
Your passport, with at least two blank pages

Passport photos

An original copy of your degree

Certified criminal background check

Money for visa fees (the fee will vary)

Documents from your school.
At this point, you will need to go to a visa run. If you apply in your home country, you skip this step. But, when applying from Thailand, you need to leave Thailand to go to a Thai embassy out of the country. Likely you will be sent to Laos or Malaysia. You will take all the paperwork from this step and apply at the embassy for you Non-Immigrant B Thailand visa. Keep in mind, they will keep your passport to complete the process and return it to you with the visa completed.
You will be able to pay in Thai baht. The fee for the visa is 2000 baht for single entry and 5000 for a multiple entries visa. Also, you used to be able to just walking, but not many embassies require you to make an appointment, so do your research on what embassy you are going to. Your employer should be able to advise you on this matter. After this process, you will have your Non-Immigrant B Visa and move on to get your work permit.
Work Permit
The next step of the process is attaining a work permit. There is not a technical "work visa" in Thailand, rather your work permit is used in conjunction with your work permit.
For this part of the process you will need:
Your passport (with your newly included Non-Immigrant B visa)

More passport photos (I told you would need a couple sets)

Your original copy of your degree

A valid medical certificate from a Thai doctor

Evidence of prior teaching experience (if applicable)

A copy of your resume

Official transcripts,

Your Thai departure card (I told you don't throw it away).
At this point, your school should really be stepping in and guiding you. They will need to help you get a valid medical certificate. Someone from our school took us to the hospital, explained to the nurses what we needed, dropped us off, and then picked us up after we got our blood drawn. Then we were granted out medical certificates. There is a small fee for this process. It ranges from 150 baht to 500 baht depending on who is working that day.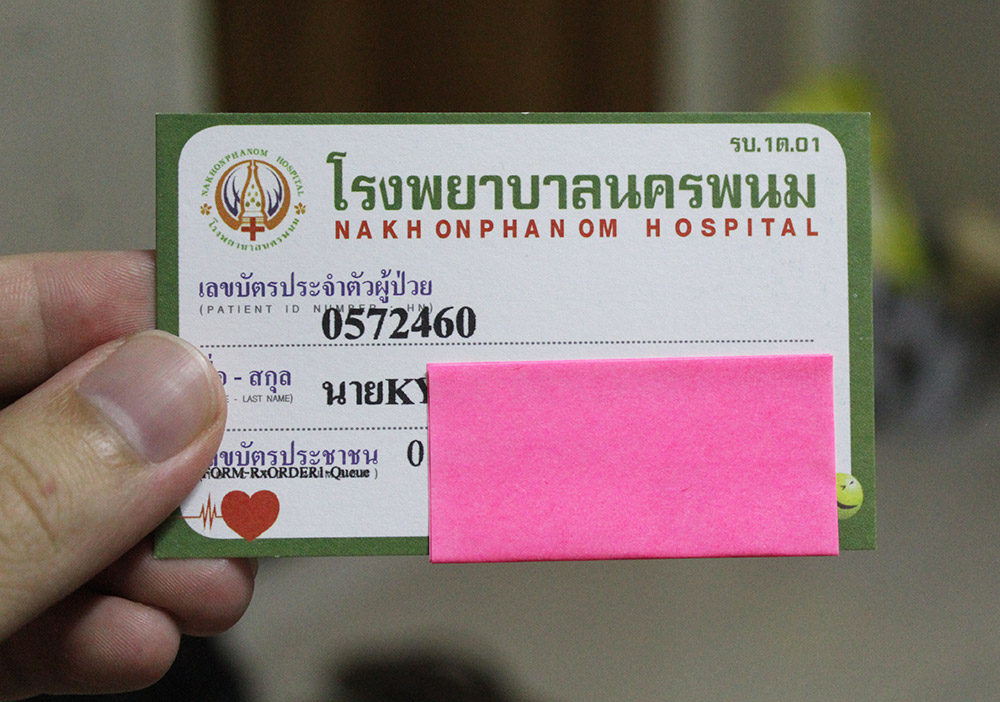 Once you have this document, then your school should compile the other documents I listed and send it off to the Thai Department of Labor, where they will create your work permit. Some school may have you go to the Thai Department of Labor with your own documentation, but it depends on where you are located and your school's policy.
Teaching License (or teaching waiver)
Finally, the last step of the process is getting a teaching license. If you don't have a degree in education and a teaching license, then you need to apply for a temporary teaching license, or waiver to teach in Thailand (the waiver is valid for up to 6 years).
For this step of the process you will need:
Your passport (with Non-Immigrant B visa)

Suprise, more passport photos (I told you)

Your newly printed Thai work permit

Original copy of your degree

University transcripts

Certified criminal background check
Again, the school you are working with should gather your documentation and send it to the Teachers' Council of Thailand. After this process, you will have your work permit and teacher's license or waiver.
Additional requirements/information
Once you have all your required documentation, you will still need to participate in 90-day reporting to Thai immigration. For every 90-days you are in Thailand since the extension of your visa to a Non-B, you will have to go to the Thai immigration offices and report. Failure to do so will result in a fine.
When leaving the country on a single-entry Non-Immigrant B visa requires you to go to immigration and pay for a re-entry permit. It costs 1000 baht per permit. If you fail to attain a re-entry permit, then your visa will be void. So this is very important.
For this process you will need:
Re-entry application form (provided by immigration office)

1000 baht for a single re-entry permit (3,800 for a multiple re-entries permit, these are harder to get)

A copy of your passport

More passport photos

Thai departure card
This elaborate process will allow you to leave the country without being fined and invalidating your visa. Also, it resets the 90-day reporting from the day you re-enter.
Finally, the documentation varies throughout Thailand. Some places are stricter than others. For example, in North Eastern Thailand we only needed our degrees with letters from our schools verifying their authenticity. But in southern Thailand, we needed to get our degrees authenticated in the US and then verified by the Thai embassy in the US before we could be issued a work permit. So know that this guide is helpful information to guide you in the process, but things change in Thailand all the time.
Conclusion
The process to teach in Thailand is by no means simple, but it isn't impossible. If you have all the proper paperwork, then you should be fine. Even if you run into hiccups that slow you down, as long as you have access to all the documents listed, then you will be able to complete the process.
---
Start your own life of teaching and travel by getting TEFL certified.
It takes only 2-4 weeks to complete and you'll receive all the training needed to become a professional English language teacher:
Click to learn about our online certification course and free job placement support.